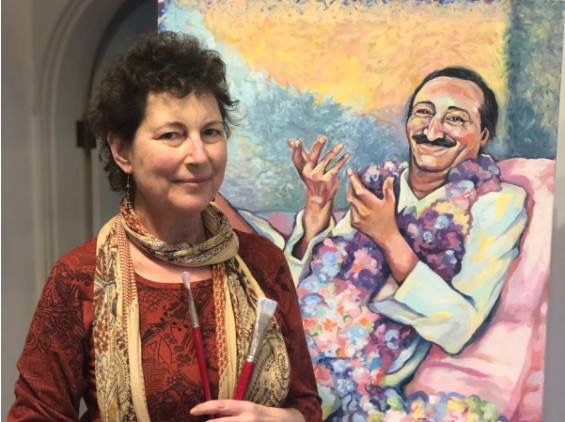 Conversations:
Marla, hi. Thanks so much for speaking with CONVERSATIONS today.
Marla Faith:
My pleasure.
Conversations:
Most people don't know Myelofibrosis . . . MF . . . and indeed many people have never heard of it. What is MF?
Marla Faith:
It is a blood cancer of the bone marrow, where fibrosis is in the marrow. This causes blood to not be able to be made there. This disease usually turns into leukemia. A bone marrow stem cell transplant is the only potential cure.
Conversations:
Before your diagnosis with MF, how were you feeling? What were your symptoms? How did you present?
Marla Faith:
I felt fine. An extremely high white blood cell count was found in a routine blood test, so I was sent to an oncologist.
Conversations:
And you were, told, Marla, you have cancer? Or did he use the term leukemia? Or Myelofibrosis?
Conversations:
What did the Onc say to you?
Marla Faith:
At first, they called it a blood disorder. He had me come back every 6 months the first year, then every 3 months the second year. Since I had no symptoms, I was on 'watch and wait.' My spleen became enlarged the 3rd year.
Conversations:
Was there a sense of being caught early? Is the prognosis much different for those where it was caught later . . .? Which is why I first asked how you were feeling . . .
Marla Faith:
By the time I went to a myelofibrosis specialist the 3rd or 4th year, he said it was very serious. The regular oncologist made it sound like I was too old for a stem cell transplant.
Conversations:
This is obviously big issue in treatment. Do you feel that you should have seen a MF specialist sooner? That your onc did you a disservice by not suggesting it? Would you advice others to RUN to a MF specialist?
Marla Faith:
Yes! An oncologist knows wide but not deep. The specialist is immersed in this. I would be dead today if I had stayed with the oncologist.
Conversations:
That is scary. Because many people do not have access to specialists. Where can a newly diagnosed MF patient find out who the MF specialists are? Also, can you share who yours is?
Marla Faith:
I found a myelofibrosis support group on Facebook, that has been a lifesaver. They are the ones who told me that there is a world class stem cell clinic where I live in Nashville, at Vanderbilt University. I made a 'second opinion' appt there with Dr. Savona, and I never left. They have a wonderful team there.
Conversations:
That's a blessing. Before you received your stem cell treatment (SCT), you were prescribed market available treatments like Jakafi and Hydrea . . How did you do on those? And at what point, was it determined that you needed to go ahead and get a SCT?
Marla Faith:
While I was with the oncologist, I took no treatments, but was trying as many alternatives venues as I could. In the summer of 2017 when I found the specialist, he put me on Jakafi for a short time to reduce my 34cm! spleen so I'd be ready for SCT. It did reduce it. I was on Hydrea and a couple other things I don't recall. I was anemic (still am) and very thin (now I'm plump)
Conversations:
If you had been put on Jakafi earlier, could you have avoided the SCT?
Marla Faith:
Dr. Savona said this is very serious but I can help you. I was approved very quickly for SCT.
No, Jakafi could make me more comfortable and slow down the progression of the disease, but SCT is the only way (if it works) to eradicate the disease.
Conversations:
What is exactly is a stem cell treatment (SCT)? Tell CONVERSATIONS more about that procedure. How painful was it? The recovery?
Marla Faith:
If someone is not a candidate for SCT (too old or other health issues), then they just keep you on drugs till it becomes leukemia and kills you.
There is no pain receivable SCT, as there is no cutting into you. First, they must find a 10/10 DNA match. If your siblings or children aren't a match, then they go to the international donor bank, and can usually find 2 or 3 matching donors.
The patient (me) receives chemo (intravenous drugs) for a week prior to SCT. The new stem cells are dripped into that same port in 20 minutes. The problems arrive afterward when the body is prone to rejecting the foreign cells. The doctors carefully monitor by giving preventive meds, but most people experience some kind of graft vs host disease (GVHD)
Conversations:
But to your point above, SCT doesn't work for everyone. I spoke to someone last week where it failed . . . she can't seem to get into a trial. And note she's very young. In her early 40s. What do I say to this woman? What options are there?!
Marla Faith:
It's such an individual disease- how it manifests, treatments, the body's responses. I'd urge her to go for a 2nd opinion to a specialist.
Conversations:
Marla, you're an artist. How did your cancer battle inform your art? And how did your art inform your battle? Also, do you want to give a shout to your site so folks can find you?
Marla, 2:39 PM
Marlafaith.com! I published a book of my art and poetry (Listening to the Bones) a month before I underwent SCT, since I didn't know if I'd be alive afterwards. I was writing many poems about death beforehand. Once I felt really better (3 months post SCT), I began a slew of collages, like being reborn. I really didn't process with art or poetry during the procedure or recovery period.
Conversations:
Where can we find your book, Marla? Is it on Amazon? Through your website?
Marla Faith:
Both. It can also be ordered directly from me.
Conversations:
Good to know. Spirituality and faith seem to be very important to you. How are they integrated into your art, your post cancer battle? You mentioned that you might die? Was there a calming? A readiness? A defiance? How did you face this?
Marla:
Thank you for this question. I'm hoping to volunteer at Vandy's stem cell clinic soon, to help people going through this by listening and calming them with art and breathing and guided visualizations. I offer this at our local Gilda's Club.
It is important to embrace one's treatment and move from fear to trust. Breathing in love and light is part of what saves me every day. I live in an abundance of gratitude and do not fear death. It was more pain and suffering that I feared, but I just had to let that go and trust. I did have bumps in the road (full body rash and awful BK virus), but I also had a loving support team and the belief that the divine was holding my hand through it all.
Conversations:
That's beautifully stated. Thanks, Marla. And a perfect punctuation for our conversation.
Marla:
You are welcome! I hope it can help someone.
Conversations, 2:51 PM
It will. Thanks again for sharing. I will be in touch. Enjoy your week, Marla.