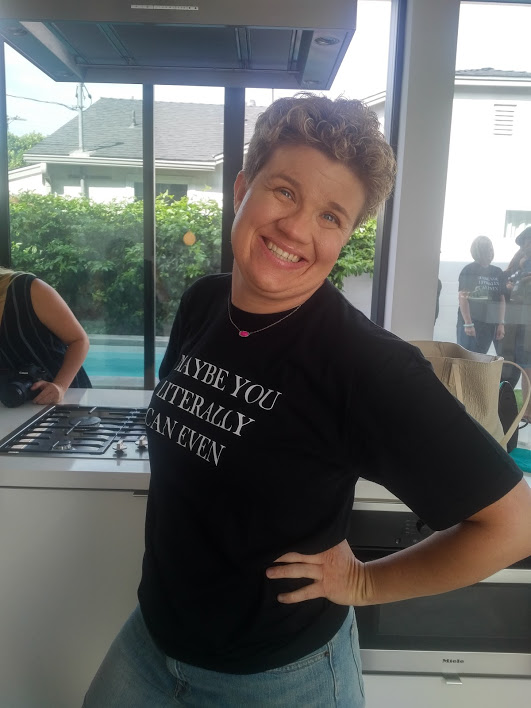 Conversations:
Jocelyn, it's so exciting to speak with you today. You're such an inspiring person. I want to start by asking you what cerebral palsy (CP) is because many people have heard of it but not know much about it.
Jocelyn Tichenor:
When I was born, I didn't get enough oxygen to my brain. As a result, it affected my speech, fine and gross motor skills
Conversations:
How did you affect your childhood? When did you understand you had special challenges? And how did you overcome them?
Jocelyn Tichenor:
I went to Physical, Occupational and Speech therapies in my younger life to try to learn how to accomplish things that were challenging for me.
I had to adapt things in the classroom. For example, I used either a typewriter or computer to complete my schoolwork.
Conversations:
Were you mainstreamed or put in a class for special needs? How accepting /accommodating was your school system? Did you parents have to advocate for you?
Jocelyn Tichenor:
I was mainstreamed from the third grade on, and pulled out of class for different therapy. I went to several schools in different states, so each situation presented its own circumstances. Yes, my parents had to advocate for me.
Conversations:
How were you welcomed by the other students? Was it challenging to earn acceptance? Make friends?
Jocelyn Tichenor:
That was challenging for me. I often sought relationships with adults, because they were more accepting of me. It got easier as I got older
Conversations:
When did you feel that other kids just start accepting you . . . she's just like everyone else . . . ? Was there a breakthrough? A "moment"" Some event?
Jocelyn Tichenor:
During high-school.
Conversations:
And then you went onto college? Where did you go to college? Is that rare, unusual for someone with cerebral palsy? Or very common?
Jocelyn Tichenor:
I went to the University of Nevada Las Vegas, and majored in Communication Studies. Just like other people, college is a choice that people can pursue, so I don't know how to answer that.
Conversations:
How did you end up a Runnin' Rebel? Were you living on the west coast? In Nevada? Did they have programs that appealed to you?
Jocelyn Tichenor:
I lived in Las Vegas, and wanted to stay close to home.
Conversations:
Makes sense. I know you work for the government and it's top secret and you can't say much. But how did you end up working with the government? How long have you worked there?
Jocelyn Tichenor:
I met someone at my dad's retirement party! She helped me get a job with the FBI. I have been with the FBI for almost 15 years.
Conversations:
That's so fantastic! Without saying too much, can you give CONVERSATIONS a little sense of what you're doing with the FBI?
Jocelyn Tichenor:
I work in the Director's Office for Equal Employment Opportunity. I process complaints of discrimination brought on by employees or applicants against the FBI.
Conversations:
Interesting work. How are you accepted by other employees? Do they treat you just like any colleague? Are you the employee with the most seniority there?
Jocelyn Tichenor:
I work with a fantastic group of people! I am part of a team, and I am accepted by my colleagues! It is a great work environment. There are people in my office with more seniority than me.
Conversations:
What would you say to other people with cerebral palsy who are facing challenges in finding employment or gaining acceptance from colleagues? What can you share to help them navigate the hurdles they might face?
Jocelyn Tichenor:
People with cerebral palsy ought to be treated like every other well-qualified person for a job.