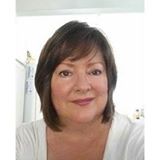 Conversations:
Melissa, thanks so much for talking to CONVERSATIONS today.  I know you have such a powerful story. In fact, one of the reasons I started
CONVERSATIONS was because of people like you who I've met over the years.  I want to start by asking you what is Huntington's Disease? Many people have heard of it but don't know it.
Melissa Biliardi of HD Support & Care Network
Thank you, Douglas for this interview. Your blog is amazing and it brings much needed awareness to our cause. I'm honored and proud to take part.
Huntington's disease (HD) is an inherited neurodegenerative disease. There is no treatment (yet) to stop its progression, and there is no cure. But we have great hope in current clinical trials for new drugs and treatments. We also have amazing neurologists, and care providers taking excellent care of our HD and JHD loved ones. Many HD symptoms can be effectively treated with off-label medications. It's similar to ALS and other neurological diseases.
Conversations:
Thanks for that detail, Melissa. So it's like having BOTH ALS and Alzheimer's/Dementia.  Meaning, both cognitive and physical impairment . . . ?
Melissa Biliardi of HD Support & Care Network.
HD symptoms are often described as like having ALS, but with a much slower progression. It's sometimes described as like having MS, Alzheimer's and Parkinson's at the same time.
Conversations:
Brutal. Do both the physical and cognitive impairment develop at the same time? Does one predate the others? There's a juvenile type that you mention but for adults, at what age does it generally strike?
Melissa Biliardi of HD Support & Care Network
That's where it gets complicated because it's different for everyone. But the short answer to your question about cognitive impairment, and physical manifestations is yes. Physical and cognitive impairment can happen congruently. However, what we are finally starting to recognize is that trouble with decision making, and psychiatric symptoms can sometimes predate the movement disorder (chorea). Some individuals don't have chorea, but may have other symptoms like ticks, twitches, seizures, dystonia, balance and gate difficulties.
Conversations:
I understand.
Melissa Biliardi of HD Support & Care Network
Mutations in the HTT gene is what causes HD. Everyone has the HTT gene, but with this disease the gene is altered and causes the DNA segment known as CAG trinucleotide repeat to appear many more times than normal. The DNA segment CAG stands for cytosine, adenine, and guanine. The elongated CAG segments fold, break, and bind which causes neuronal death in brain cells and elsewhere in the body.
Based on the CAG repeat, and other factors, a persons symptoms could start at any age. Adult-onset Huntington's symptoms typically start in the prime of their lives, and can progress for 15-20 years. As the altered HTT gene is passed from one generation to the next, the size of the CAG repeat often increases in size, which means an earlier onset of symptoms. This is a genetic process called anticipation. I heard of a JHD case where the infant was diagnosed at age 2 months.
Conversations:
We're going to come back to some specifics of the disease but I want you to take me back to the beginning, Melissa because I know you've been in this war for some time. When and how did HD first come into your life?  Did you know that you had HD in your family?
Melissa Biliardi of HD Support & Care Network
Our journey began when my oldest son, James, was diagnosed in 2008. I had already been separated and divorced, so we lost touch with the family for a number of years. We later learned that James' grandfather was sick with HD. I started my research into the disease at that time, and that's when I learned how  destructive it is.
Conversations:
Yes . . . and then your ex-husband also got HD but was diagnosed after your son? I know we talked about this  . . . years ago . . .
Melissa Biliardi of HD Support & Care Network
I'm not exactly sure when James dad was diagnosed, but I know now that he had symptoms much earlier. I was not so much aware of Huntington's symptoms before James' diagnosis.
Conversations:
How old was your son when he was diagnosed? What were the symptoms that led to this diagnosis?  When did you first hear of this diagnosis? Had you even heard of it? What did the doctor say to you?!
Melissa Biliardi of HD Support & Care Network
James was 28 when he was diagnosed. He was having seizures, spasms and tremors, along with many trips to the hospital, which is why we decided to test. It was a devastating diagnosis.
Upon delivering the test results, his physician said, "I'm so sorry, James your test is positive, which means you have inherited the gene. There's no cure." He was  pale, and somber when he delivered this death sentence to my son. We were both in shock. He continued, "He will die from this…" My heart broke into a million pieces that day.
James has other genetic conditions: Klinefelter's syndrome, diabetes, and complications relating to connective tissue disorder, and degenerative disc disease. One of his HD Neurologists likened his symptoms to JHD, but with the adult CAG repeat.
By that time we knew a bit about HD because James' grandfather was sick. We also knew his dad was affected because HD is caused by a dominant gene mutation (autosomal dominant inheritance), and doesn't skip generations.
Conversations:
At this point, how many relatives. . . have come down with HD?  Your older son, your ex-husband, your ex-father in law?  I realize these are on your ex's side.
Melissa Biliardi of HD Support & Care Network
Respecting privacy, let's just say that we know some have tested and some are having symptoms.
Conversations:
Yes. Such an indescribable battle. Now, when was HD discovered? And when was genetic testing created?
Melissa Biliardi of HD Support & Care Network
George Huntington described the movement disorder in his first paper on Chorea in 1872. Although we know it has been recognized as a disorder since the Middle Ages. Throughout history, the lack of understanding about the disease has greatly contributed to stigma and prejudice about the disease. Fortunately, we now have wonderful blogs like CONVERSATIONS, many more advocacy groups, nonprofits, and social media platforms to bring awareness, education, and information about HD.
In the 1970's Hereditary Disease Foundation (HDF) recruited 100 scientists who worked for 10 years to locate the responsible gene. In 1983 through the US-Venezuela Huntington's Disease Collaborative Research Project the approximate location of the causal gene was discovered. Then in 1993 they isolated the precise causal gene on chromosome 4. By then DNA-marking methods were developed making the Human Genome Project possible. I believe the blood test was also developed in 1993 when they were able to isolate the location of the mutation.
Conversations:
Desperate to hear that. You have two sons with it? How old was your youngest sons when he passed?
Melissa Biliardi of HD Support & Care Network
Raymond was 31 when he passed. He was diagnosed in May, 2013, and passed in June 2013. The coroner documented his death as suicide, but after learning more details about the events leading up to it, we believe he was murdered.
Conversations:
Oh my goodness . . . Melissa . . .
Melissa Biliardi of HD Support & Care Network
Yes, Huntington's Disease destroys everyone in its path, and it doesn't stop. It just keeps wiping out generation after generation in one way or another.
Conversations:
Back to the genetics for a second . . . if a person does NOT have HD, do they still carry the gene which they can pass on?
Melissa Biliardi of HD Support & Care Network
That goes back to the CAG repeat. Here is a very helpful graph that explains CAG repeat count classifications and who will be affected by the gene:
————————————————————————————————————
<27 CAG repeat is normal classification, they will not be affected, with no risk to offspring.
————————————————————————————————————
27-35 CAG repeat is intermediate classification, they will not be affected, but risk to offspring is elevated <50%.
————————————————————————————————————
36-39 CAG repeat is reduced penetrance, they may or may not be affected, risk to offspring is 50%.
————————————————————————————————————
40 CAG repeat is full penetrance, they will be affected, risk to offspring is 50%.
————————————————————————————————————
>60 CAG repeat is considered juvenile Huntington's disease, diagnosed under age 20.
————————————————————————————————————
Your readers might also be curious to know about the prevalence of HD.
Anywhere from 1 in 10,000 to 1 in 7,000 people in the world may have HD. In certain geographic locations numbers can be much higher or lower. If a child does not inherit the altered HTT gene, then the thread is broken for that person's family.
Conversations:
You have been a powerful advocate for many years and you have your own non profit . . . Before getting into the specifics of the great work you're doing there . . .  take me back to the moment that you decided . . . "Hey, I'm going to start my own non profit" . . . there's not enough support, programs, awareness, etc.   What drove you to make that decision . . . ?
Melissa Biliardi of HD Support & Care Network
When James was diagnosed in 2008 I immersed myself in research. I had a very difficult time connecting all the resources for a better understanding of the disease, and who was working on it. It seemed like the research community and the HD the community were disconnected from each other.
James wanted me to "find his people". He was desperate to find his community  and wanted me to help them. He urged me to start the support group association, and radio show. I could not say no! Help 4 HD was James' creation to help his fellow HD family. I am forever grateful for his vision and passion to seek out the community to which he belongs. He continues to encourage and inspire me every day to carry on his mission.
In 2010 I organized a symposium and CME sponsored by HDSA and Lundbeck. I brought the incredible Dr. Jan Nolta, UC Davis Stem Cell Program Director down from Sacramento, and Dr. Yvette Bordelon from UCLA HDSA Center of Excellence for the event. We ended up with 80+ community members and 30 medical professions who were in attendance over our 2-day event. We  launched our support group association from that event in June 2010 with 15 families on the Central Coast California, and launched Help for HD radio in November 2010.
Help 4 HD Radio, the first online radio program for HD, connected research scientists, HD specialists, and care providers to the community, and continues today on BlogTalk Radio. For the first time in history we had pioneered a communication hub for HD families, and the amazing professionals who were devoting their entire careers to finding treatments and the cure for HD.
In 2013 as President and CEO I gathered a board, incorporated Help 4 HD International and applied for nonprofit status. Through the passionate work of super advocates Katie Jackson, Katrina Hamel, Daniel Medina, and James Valvano from WeHaveAFace the organization grew very fast.
In 2015 my mom had a heart attack, and James disease was progressing. Being that I am the sole caregiver for both James and mom, I needed to step down from my responsibilities at Help 4 HD. However, I wanted to continue the networking, and support group work that was the foundation of Help 4 HD. Unfortunately, the new board at Help 4 HD International did not wish to support it.
In 2016 I resigned from Help 4 HD and started HD Support & Care Network, a much smaller organization where we network resources for families, run online support groups, physical support groups, monthly webinars, and live events as my time permits.
Conversations:
What did you feel like the community was missing  . . . ?
Melissa Biliardi of HD Support & Care Network
Not everyone is able to go to HDSA Centers of Excellence for their care, or participate in clinical trials, or even conferences. Many HD families are isolated, and need information, access to resources. They have been dealing with this disease for generations, and they desperately need help.
Our caregivers are overwhelmed. Some may also have HD and are caring for their family members who are struggling with the symptoms. Not much has changed for the caregivers since I started this journey. That's why I founded HD Support & Care Network, to help the families who have unmet support, and care needs.
Support groups provide a safe and confidential place to validate their life challenges. It's a place for them to get support, to meet their peers, and to know they are not alone.
Conversations:
Interesting.  For CONVERSATIONS readers, what is the name of your non profit and can you share the link with us?
Melissa Biliardi of HD Support & Care Network
HD Support & Care Network
LINK: www.HDSCN.org
Conversations:
This is the site to your current non profit:
http://www.hdscn.org/Partners.html
Melissa Biliardi of HD Support & Care Network
Yes.
Conversations:
And it focuses on support?
I see some CALI and AZ support groups. Are you local or national non profit in scope?
Melissa Biliardi of HD Support & Care Network
Yes, we are a national organization focused on helping families find support and care resources. Support is a huge need in our community. We are partnered with the Parkinson's & Movement Disorders Alliance out of AZ for online support groups (2 per week), and Lunch with Docs HD webinars. We are also partnered with HDSA for physical support groups in CA and AZ. We utilize a network of social workers, physicians, support groups, and other professionals in our HD world to help our families. Some of our online live support groups, and webinars on Zoom attract international attendees.
Conversations:
Are there any specific programs? Initiatives? Events? that you want to highlight?
Melissa Biliardi of HD Support & Care Network
Currently we have 2 online support group meetings per week on Zoom. They are sponsored by HDSCN and PMDAlliance, funded by TEVA:
Faith Focus 4 HD every Tuesday at 9:30 am PT/12:30 pm ET on Zoom.
HDSCN's Zoom.us Link: https://zoom.us/j/5994862032
Zoom Phone No: 599-486-2032
We study and discuss helpful ways to live our lives with a faith filled focus.
See Me HD Group Call every Thursday at 9:30 am PT/12:30 pm ET on Zoom.
Join from computer: https://PMDAlliance.zoom.us/j/769346544
Zoom Phone No: +1-408-638-0968 (US Toll)
Or +1-646-558-8656 (US Toll)
Meeting ID: 769 346 544
This is a group of HD individuals that call in on Zoom for a weekly support group.
We also have physical support group meetings in Santa Maria, CA. If anyone is interested in joining our support group calls, please contact me at melissa@hdscn.org.
Conversations:
What is the reach of the online support groups? Are we talking hundreds? Thousands of people belong to them? Is it like a Facebook support group or much more involved and monitored and moderated than that?
Melissa Biliardi of HD Support & Care Network
Our Zoom Live support groups are video conference group calls. They are small groups of 3 to 5 at each call. The webinars can reach hundreds to thousands. My advocacy work has slowed down at this time with James on hospice, and I'm also taking care of my mom who is 90. However, I'm still taking many calls, and doing the online support groups. I'm taking a break from outside events and webinars for now. We are only 3 volunteers at HDSCN, and I am the main networker.
Conversations:
I want to close to that point, Melissa.  How do you find the energy   . . . to wage this war? What do you rely on? Faith? Friends? Church? Community?  It must be emotionally exhausting . . . where do you find the reserves to march on?
Melissa Biliardi of HD Support & Care Network
All of the above. I try to meditate and pray daily in my garden sanctuary. I am an avid fish aquarium enthusiast, and gardener. I love to cook, and decorate anything I can get my hands on. But, where I find my greatest joy, and fulfillment it's in helping others, and carrying on James' mission.
Conversations:
You're so inspiring, Melissa.
Melissa Biliardi of HD Support & Care Network
Thank you for thinking of me for your magazine!!
Conversations:
We're extremely grateful for you speaking to us.
Melissa Biliardi of HD Support & Care Network
Thank you so much.
Conversations:
Continued prayers to you and your family  . . . and to all HD families!
Melissa Biliardi of HD Support & Care Network
And blessings to you for highlighting those who are trying to help humanity. I truly believe that is why we are here on this beautiful planet.
Conversations:
You're too kind. Thanks so much, Melissa
Melissa Biliardi of HD Support & Care Network
Again Many thanks for the opportunity to share my experiences on CONVERSATIONS. As promised, here are some additional links and references about patient advocacy and Huntington's disease:
HD Support & Care Network
http://hdscn.org/Partners.html
Parkinson & Movement Disorders Alliance
Huntington's Disease Society of America
https://hdsa.org/what-is-hd/overview-of-huntingtons-disease/
Teva Pharmaceuticals Patient Advocacy
https://www.tevapharm.com/corporate_responsibility/global_patient_advocacy_engagement/
About Huntington's Disease on Wikipedia
https://en.wikipedia.org/wiki/Huntington%27s_disease
About Huntington's Disease on National Institutes of Health
https://ghr.nlm.nih.gov/condition/huntington-disease