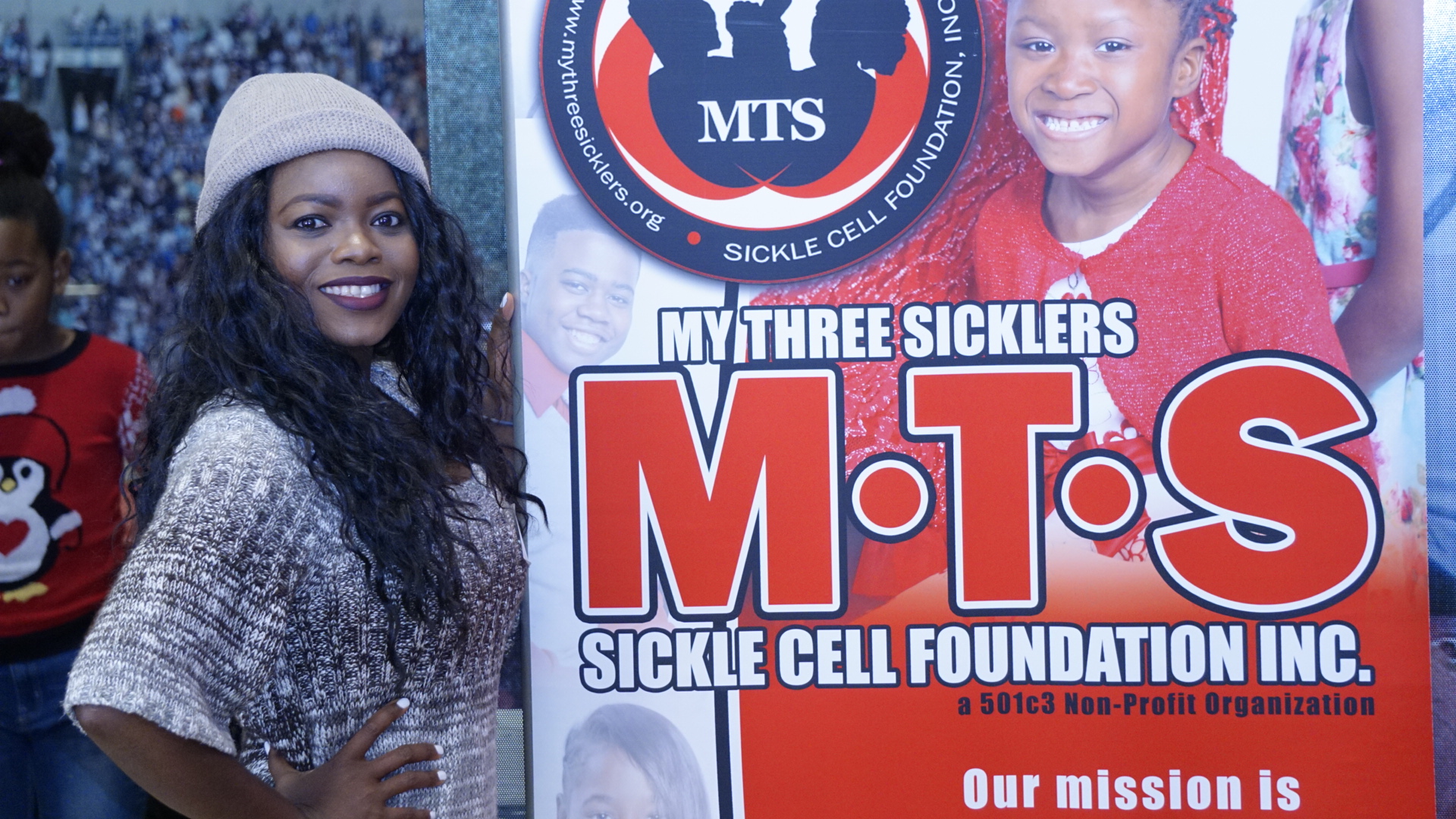 Conversations:
Mapillar, thanks for speaking to CONVERSATIONS today. Now, you're both a caregiver and advocate for sickle cell disease (SCD)?
Mapillar Dahn / MTS Sickle Cell Foundation:
You're so very welcome. It's my pleasure. I am the mother of three beautiful daughters who all suffer from sickle cell disease. And as of November 2015, I have been advocating for SCD as well as supporting families like ours who are affected by this disease.
Conversations:
Tell CONVERSATIONS, what sickle cell disease? Many people have heard of it but maybe not know it especially outside the African American community.
Mapillar Dahn / MTS Sickle Cell Foundation:
Sickle Cell Disease exists in people who have inherited 2 hemoglobin S genes from their parents, one gene from each parent. That means that instead of round and flexible red blood cells that flow easily through the blood vessels, their red blood cells may take on a deformed shaped (like a sickle or crescent) and are sticky, making it hard for them to move easily through the blood vessels. This condition can lead to a host of complications like extreme pain crises, stroke, acute chest syndrome, and for many in countries that lack the resources to care for such a disease, death. It's a very painful and complex disease that affects everyone different and can affect every aspect of a patient's health, because blood flows everywhere.
Conversations:
Comprehensively stated. Thanks, Mapillar.
Mapillar Dahn / MTS Sickle Cell Foundation:
You're welcome.
Conversations:
There's a genetic test so people are diagnosed at birth? When do the symptoms start to manifest themselves?
Mapillar Dahn / MTS Sickle Cell Foundation:
If a patient is born in the United States and that child is of African descent, he or she is screened at birth, especially if the mother has the trait. All states are supposed to be doing newborn screening for SCD though. As far as when the disease starts to manifest, it differs from patient to patient. But typically, the first few months tend to be non problematic because the baby still has a lot of fetal hemoglobin. So around 5 months and up and when symptoms may start to show. But again, it affects everyone differently so that age of manifestation will be different for everyone, if they are symptomatic.
Conversations:
How prevalent is SCD in the US? How many people have it? What percentage of African Americans have it?
Mapillar Dahn / MTS Sickle Cell Foundation:
It's considered a rare disease. About 100,000 Americans have Sickle Cell Disease, with the majority of patients being of African descent. 1 in 365 African American child is born with this life threatening disease, while 1 in 12 Black or African American has the trait or is a carrier of the sickled gene. While it does predominantly affect people of African descent in the United States, Sickle Cell Disease IS NOT A BLACK DISEASE. There are sickle cell patients who are blond haired and blue eyed. It is a global epidemic that affects millions of people around the world of all races. People of ancestry from South or Central America, the Caribbean Islands, India, Saudi Arabia, and Mediterranean countries such as Turkey, Greece, and Italy, are affected by this life threatening disease as well.
Conversations:
Do you feel like there's some stigma or closet it gets placed it because people often think of it as a African American disease even though it's not? Is it more challenging to fundraise for it? Do you have non African American donors?
Mapillar Dahn / MTS Sickle Cell Foundation:
There very much is a stigma that's associated with the disease that makes advocating for it pretty hard. I've had people say there are more pressing matters than sickle cell to focus on. Advocating and subsequently trying to raise funds for sickle cell disease is not easy at all. Either that or I'm not going to the right people. I can count the number of non African American donors on 1 hand and have a few fingers remaining. That's why we have to get away from painting this disease as a Black or African American disease. Number 1, it's not true. Secondly, it's really hurting the cause.
Conversations:
Mapillar, please tell CONVERSATIONS more about your foundation and please share your link so we can find it.
Mapillar Dahn / MTS Sickle Cell Foundation:
I started MTS Sickle Cell Foundation in November of 2015 because there was a void, at least in my area, that needed to be filled. As a single mother of 3 daughters who all suffer from the disease, I kept looking around expecting resources to be available for sickle cell families, but there were none. So I decided to be the change that I wanted to see. My mission is simple: increase the public's awareness of sickle cell and provide support to families who are affected by SCD. Since its inception, the foundation has hosted photo shoots for sickle cell families, sponsored over 100 children battling sickle cell disease to a week-long summer camp, prevented families from being evicted and or getting back vital utilities, hosts its annual kickball tournament to bring awareness to sickle cell disease, hosts awareness step-a-thons, conducts outreach visits to sickle cell patients who are hospitalized, provides educational material for awareness events, provides parking passes and food vouchers for sickle cell families at Children's Healthcare of Atlanta, attends health fairs to spread sickle cell awareness, sends birthday presents to sickle cell patients all over the United States, provides financial assistance to families, hosts its annual holiday breakfast and toys giveaway, and more. For more information about the amazing work we are doing in the sickle cell community or to find out how you can make a difference in the lives of sickle cell families, please visit our website at www.mythreesicklers.org.
Conversations:
That's very inspiring, Mapillar. I want to talk about treatment for a moment. What treatments are available for those with SCD? What is coming on line? What are your hopes and dreams for your daughters and others with SCD?
Mapillar Dahn / MTS Sickle Cell Foundation:
In July 2017, the FDA approved Endari to reduce acute complications of sickle cell disease and it was the first new treatment in nearly 20 years. Let's marinate on that for a while. 20 years since we got hydroxyurea, which has been a God-send for many but didn't work so well for others. Where new drugs have failed though, I am super encouraged by the speed with which the different forms of transplants have advanced just in the last few years. That gives me hope that a universal cure is on the way, one that will not only cure my daughters who are here in the United States, but will be available to patients who only crime, it seems, is being born in these countries where they have no access to a fraction of the care that is available here.
Conversations:
CONVERSATIONS shares your hopes, Mapillar. Thanks so much for speaking with us today.
Mapillar Dahn / MTS Sickle Cell Foundation:
My pleasure. Thank you so much for having me.