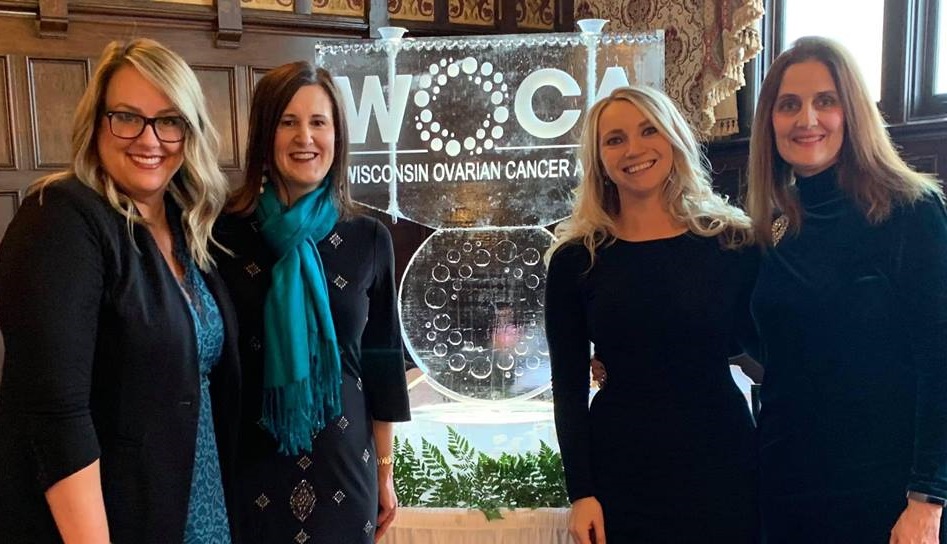 Conversations:
Ashley, hi. Thanks for speaking with CONVERSATIONS today. Take me back to the beginning. How did you get involved with Wisconsin Ovarian Cancer Alliance which is known as WOCA?
Ashley Wagner of WOCA:
Thank you for having me! I got involved with WOCA roughly 6 years ago. A year prior to starting at WOCA, I lost my mother to pancreatic cancer. After that, I knew I wanted to help women and their families that are going through a cancer diagnosis. WOCA was a natural fit. I started working part time here, and slowly grew into the role of Executive Director in 2016.
Conversations:
That's impressive. You re much younger than EDs at other non profits. That's a lot of responsibility. How many woman on average year does WOCA service? Is it membership driven?
Ashley Wagner of WOCA:
Thank you! We are not membership driven. As the only ovarian cancer specific organization in Wisconsin, we serve the entire state. We are in contact with roughly 500 survivors in the state. We estimate that is more than half of the ladies in Wisconsin affected by the disease. Through our awareness and education efforts, we reach ten of thousands of individuals each year.
Conversations:
And I noticed that much of your staff and indeed board are OC survivors or have had OC in their families . . .
Ashley Wagner of WOCA:
That is correct. Our Board of Directors is primarily made up of survivors, and those that have lost their mothers to the disease. They are a very passionate group of ladies that want to give back to the ovarian cancer community, with the hopes of creating more awareness of the disease.
Conversations:
Awareness is so crucial for OC and of course for all diseases. What in a quick recap can you share about early testing, genetics? What would you tell a recent college grad that she should know about OC? Here are some things you must know, be aware of?
Ashley Wagner of WOCA:
Education of the signs and symptoms is crucial. We categorize them as the B.E.A.T. Which stands for Bloating, Abdominal Pain, Eating Difficulty, or "Tinkle, Tinkle, Tinkle" which is urinary frequency, or urgency. Knowing those symptoms is essential for early diagnosis. Because these symptoms are very common and can be misconstrued as other diseases, ladies are generally diagnosed in later stages.
There is no test for Ovarian Cancer. Many people think a PAP detects OC, which is does not, it is a screening tool for cervical cancer.
Conversations:
How early can a woman get OC?
And how genetically significant is it? It run in families like many cancers seem to? Are there identified mutations?
Ashley Wagner of WOCA:
Ovarian Cancer is generally found in ladies past the age of 60, but ladies of all ages are at risk.
There is a genetic mutation associated with Breast and Ovarian Cancer, and this is the BRCA1 and BRCA2 gene. If a woman has a family history of breast or ovarian cancer, seeing a genetic counselor is strongly recommended.
Conversations:
Absolutely.
If someone learns she has those genes, it is recommended that she has her ovaries removed?
And if so, what percentage of women have the removal surgery?
Ashley Wagner of WOCA:
There are many factors to consider when deciding on a oophorectomy. Some of those people age, desire to have children, etc. It is recommended to start considering the surgery around 40 years old. I can not speak on the percentage in which this is done as I do not have that information.
Conversations:
Any sense of what percentage of OC is caught early stage? Some cancers like pancreatic, liver and stomach are so hard to diagnose that they are often diagnosed stage 4 and the patient is already looking at the end game.
Ashley Wagner of WOCA:
Roughly 85% are diagnosed in advanced stages. A 5 year survival rate for these stages is less than 50%. If a woman is diagnosed at Stage 1, her rate of long term success is almost 95%. That is why knowing the signs/symptoms, and listening to your body are so important.
Conversations:
As you know, Find a Cure Panel did some OC research a few years ago then again recently. Indeed about 50% of the women could not participate this time. I'll leave it at that. Losing so many women you know each year, how do you march on?
And not be overcome with sadness and grief?
Ashley Wagner of WOCA:
You have your good days and your bad days. Losing women you get close with is definitely the most difficult aspect of the job. We fight on each day in their honor, and hope that through awareness and education, we can help ladies get diagnosed in earlier stages, and drastically increase their rate of success.
Conversations:
Is there any source of measurement you have for that? Can you track that in any meaningful way?
Ashley Wagner of WOCA:
As of today, not that I am aware of. Statistics are usually relayed a few years, so we do not know any "real" numbers until them. But, from talking to our survivors and hearing from woman that are diagnosed at stage 1 or 2, is enough reassurance for us.
Conversations:
Ashley, there are a number of national associations in OC and indeed in various diseases where's there's chapters, associations, affiliations etc. but WOCA has remained independent. Can you speak to that? How do you feel that has worked for WOCA?
Ashley Wagner of WOCA:
WOCA is a partner member of a national organization, Ovarian Cancer Research Alliance (OCRA). Is it nice to be able to have a larger support system to share struggles with and seek guidance. OCRA is different in the fact that there do not charge any member fees, so all of our funds raised remain in the state of Wisconsin, which was always a priority for WOCA.
Conversations:
That's very important because in many affiliations, "national" takes all the fundraising! You have a lot of different support programs, can you highlight one that is especially important to you or effective for WOCA?
Ashley Wagner of WOCA:
Yes! We have several support services we offer. Our :Woman to Woman" program is a peer based mentorship program that I have found to be very beneficial. We connect women who are newly diagnosed with women who are farther along in their journey. The ladies love connecting with one another, and know they are not alone.
Conversations:
That's so crucial to have that support. Turning back to research for a moment. There seems to be some development in treatments designed for recurrent OC. Can you give CONVERSATIONS a sense from your experience. How effective those news meds are for women who are unfortunately recurrent?
Ashley Wagner of WOCA:
Ovarian Cancer has made vast improvements over the last 3 years. While we have no real advancements in a diagnostic test, we have made major breakthroughs in treatments. Several new drugs have hit the market for those with a genetic mutation, and several trials are in the works as well. I think a woman diagnosed at stage 4 should remain optimistic. There are many more options today than in years past, and more to come! The disease is more so being treated as a chronic condition, as unfortunately reocurrence is a very real part of the disease.
Conversations:
That is very hopeful and I could place to leave off. Ashley, thanks so much for talking to CONVERSATIONS today. One final thing, can you share WOCA's link so interested people can find you?
Ashley Wagner of WOCA:
Absolutely! You can visit our website at wisconsinovariancancer.org. Thank you for having me!