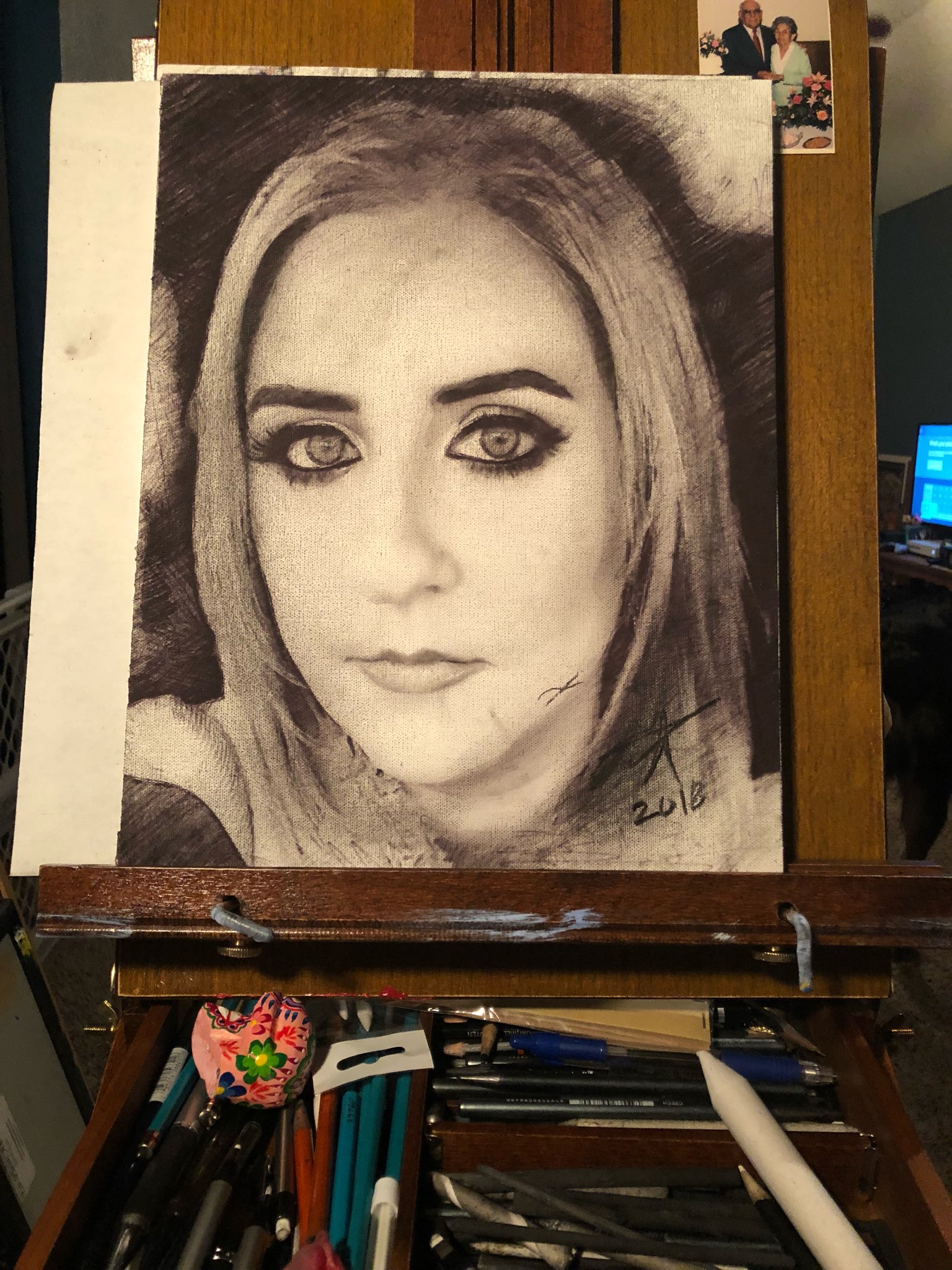 Conversations:
Misty, thanks for talking to CONVERSATIONS today.  Let us go back to the beginning. Take us back to BEFORE your diagnosis. How you were feeling? What your doctor said? Your reaction to getting hit with cancer in your 30's?
Misty:
It was May 2018. I was about to turn 36 years old and I noticed a swollen lymph node on the left side of my neck. Nothing hurt yet so I waited a week before I paid out of pocket to see a doctor since I didn't have health Insurance. I felt fine though. No pain.
I worked out 5 times a week and very health conscious so I didn't really think I had much to worry about. The doctor I went to had me do an X-ray and blood tests but basically gave up on a diagnosis because no one would give me the biopsy I needed without a PPO health insurance plan.
In September of 2018 my husband acquired a job on the Beto for Senate campaign and we got the insurance I needed. By this time I was having some chest pain and soreness.
Soon after getting the health insurance I ended up having an ambulance take me from my house to the ER from intense pains that landed me on the floor of my garage while trying to get to my car to drive myself to the hospital.
Once in the ER, I finally got the biopsy I needed and it came back with results showing I had stage four of a very rare cancer called Medullary Thyroid Cancer.
This cancer is a due to a mutated gene in my DNA and had already spread all over my body.
Conversations:
Wow . . . starting with the insurance issue. That's really crappy because you lost 3 crucial months . . .  Beto, you should know about that!  If you go into the ER, aren't they legally required to treat you? Or they do what little they have to but didn't give you a biopsy but they had no idea what it was  . . .?
Treat you  . . . insurance or not . . .
Misty:
Well as an American you should know that because of our horrible health care here in America most Americans are reluctant to go to the ER unless we feel like we are dying.
Especially if one does not have health insurance due to the high cost of care. Even with health insurance the cost of care is unaffordable.
My husband and I have four kids so going and getting care for ourselves was usually something we were very reluctant to do due to costs.
Conversations:
It's a horrible system because it now costs 1000X more to treat you because you've come down with stage 4 cancer than it would have if you have preventive /early stage care.  And it has life affecting impact for you  . . .but costs more in insurance for everyone else . . . broken.
You mentioned that your cancer has spread all over your body . . . where has it spread to?
Misty:
Agreed. Also since Beto didn't win the election for senate we lost our health insurance after the campaign was dissolved and to this day I have not been able to acquire health insurance.
Conversations:
That's appalling.   How are you getting / paying for treatment?
Misty:
The cancer in in my bones, my liver, my lungs, my lymph nodes, my thyroid, wrapped all around my spine, on my sternum, and has eaten a whole part of my pelvis bone, and ate parts of my spine that has resulted in two of my bones in my spine to crush and break.
Well we decided my best chance at survival was to go to MD Anderson in Houston (a four hour drive for us) and unfortunately they only accept Medicaid, Medicare, and PPO employer health insurance.
And self pay…
Conversations:
And . . .  You were able to get into the Loxo trial?  Is it at MDA?
Misty:
It's a good question how we will pay for treatments. We are just racking up the bills currently. We've already used up all of our savings.
I also have a GoFundMe fundraiser set up and my friends have set up a few fundraiser events to help me.
https://www.gofundme.com/help-support-misty-moores-rare-cancer?sharetype=teams&member=1943858&utm_medium=copy_link&utm_source=customer&utm_campaign=p_na+share-sheet&rcid=05e3de971367465496d6d4a50ac699b6
Yes. that has been the best thing so far was that I was accepted into the LOXO-292 trial and at the moment the company putting on the trial is paying for most of the expenses in exchange for my data.
My husband, Micah, says I am the luckiest unlucky person he knows.
Conversations:
Yes.  I definitely want to talk about Loxo  . . . before that . . . I want to return to the mutation.  Is there cancer in your family? Did anyone previously have thyroid cancer that you know of?
Misty:
No. My cancer is sporadic. I NEVER saw this coming.
Conversations:
I understand. Before Loxo, did you have any treatment? You've had surgery? Were you given NKI? Or was LOXO your first treatment?
Misty:
I had a total thyroidectomy and had 60 lymph nodes removed from my neck. But I would consider LOXO to be my first treatment after the cleaned out what they could with surgery.
Oh. I actually did have some treatment.  How could I forget! I had two weeks of radiation to my pelvis, three weeks of proton therapy to my spine and four weeks of proton therapy to my sternum.
That was really rough! I guess I blocked out that whole experience.
Conversations:
You were mentioning all the places where your cancer has spread. How are you feeling?! Are you ambulatory?  Can you breathe?
Misty:
I was on a lot of pain meds and nerve pain medications and in a wheelchair until I got on LOXO. After the first week on LOXO I was able to taper off my pain meds only needing them occasionally!
I am currently on week four on LOXO.
Conversations:
Tell CONVERSATIONS about Loxo. What is it? It's a targeted therapy?  Attacking your mutation?  It's going to shrink? Eliimnate? Control? Your cancer?  All of it? Just the thyroid? What are your hoping? It's a new drug and I know people who are on it are supposedly doing pretty well . . . so I read.
Misty:
Yes it's a brand new gene targeted therapy. The way my doctor Mimi Hu explained it is that my DNA is like a book and genes are like pages in that book. The gene that mutated is causing it to create copies of itself over and over again. So one page in my book is making copies over and over again. The LOXO is preventing those pages from copying/ creating tumors. So the hopes are that the tumors will shrink because my body knows they are not supposed to be there and will shed them. I still need some scans next month to see if this is happening but my blood tests already are showing a difference!
This is not a cure since I am already stage four meaning it's in my bones and I am terminal but it will help me live longer and hopefully stabilize the cancer for a time.
Conversations:
That's so exciting.  Praying for you, Misty.
I want to close by asking about your art.  You're an artist?  Can you share your site?  Tell us how your battle has informed your art? And how, your art has informed your battle?
Misty:
Yes I was a full time artist before the cancer. http://www.mistyamberart.com
and
http://www.instagram.com/mistyamberart
I haven't been able to make much art since the cancer took over but I hope to soon thanks to LOXO. We sold a lot of my art in the fundraisers.
I do everything from conservator/restoration art, face and body painting, fashions made out of recycled materials, crafting like candles, jewelry, and accessories, murals, graphic design, mixed media fine art, teaching art, literary, writing and cooking classes, canning, baking, catering, poetry, slam competitions and I have a degree in American Sign Language and linguistics. I also did a lot of traveling to service communities in other countries like Ethiopia. Art and being creative is my life.
Conversations:
You're very talented and strong in spirit, Misty.  CONVERSATIONS readers, check out Misty's art!
Misty:
Thank you so much for having me! It's my pleasure!