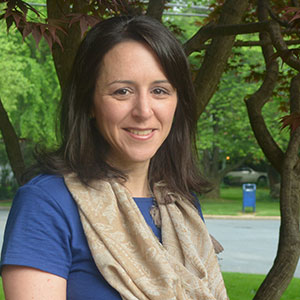 Conversations:
Rachel Roscow, hi. Thanks for talking to CONVERSATIONS today. Take us to the beginning. How you got involved in research?  And how you developed a subspecialty in health care?
Rachel Roscow of Roscow Market Research:Hi Doug.  I actually fell into marketing research, not by choice.  But it was lucky, as I LOVE it!  My senior year of undergraduate school, I had a part-time job at a healthcare marketing research firm in the marketing department.  I wanted to go into advertising/marketing.  When I graduated, they offered me a job in marketing research, so I figured I'd give it a try.  Years later, I had the opportunity to work in advertising, but ultimately made the decision to come back to marketing research.
Conversations:
Rachel, you firm offers full service? You do moderation, I know but design and analysis also?
Rachel Roscow of Roscow Market Research:
Yes, full service.  Soup to nuts.  Qual and quant.  And because we are small, clients know they are getting high level thinking and service across the entire project.
Conversations:
When working with on a patient related project . . . clients, let's say a pharma company approaches Roscow Market Research and says we want to do some patient research in  . . .cystic fibrosis . . . or any disease obviously  . . .  how is that project designed?  What is the working relationship with the client? I know it varies but take conversation through a typical scenario . . .
Rachel Roscow of Roscow Market Research:
The client will tell me their objectives and then we will discuss a research approach.  I will write a proposal that outlines the recommended approach in detail, and then we will work together on adjusting any specifics.
Conversations:
That design which is phase 1 is nailed down and you move into fielding or data collection and work with companies like Find A Cure Panel to find the participants.   In a qual project, which is phone or online focus group . . . but let's say a phone call . . . when you come up with the script for the call with the patients . . . there's some script and set questions to ask . . . but how much of a typical call is scripted vs. free form . . . ?
Rachel Roscow of Roscow Market Research:
In qualitative research, we write a discussion guide.  It is a pretty detailed outline of the questions we want to ask.   But an experienced moderator will not follow the guide as a script, but more to guide the conversation.  I always say, the key to effective moderating is understanding your client's objectives.  At the end of the day, if you can answer their objectives, you've done your job.
Conversations:
And Rachel, how would define a "great" participant? Clients say, "oh, that call went great." "She was great."   What does that mean to a researcher?
Rachel Roscow of Roscow Market Research:
That's a really good question.  A great respondent is articulate, engaged, thinks about responses and doesn't just give one word answers.  The tough respondents are those who you have to pull information out of….
Conversations:
Indeed yes. I agree. But I find some clients get caught up with specific data points.  And I say, "it doesn't matter if she was diagnosed 3 months ago, 6 months ago or 8 months ago" if that is a screening qualifier.  If she is engaged, articulate, has a good memory, etc.   And I find this is a daily battle with some clients where they lose sight of what is valuable  .. . get stuck in the forest.
Rachel Roscow of Roscow Market Research:
Yes, in some cases you are right.  There is an aspect to memory, and in the example you gave, the farther out you get from diagnosis or a particular event, the less accurate their responses will be.  It's nobody's fault, just human nature.  So, those requirements do often have a purpose.
Conversations:
They do but people can remember when they were diagnosed with stage 4 cancer!  That gets stuck in the memory.
Rachel Roscow of Roscow Market Research:
But if you are recruiting a hard-to-reach audience, such as patients with a rare condition, you need to be flexible and practical with screening criteria.  I like to be pragmatic with my research approach overall, and the specifics as you mention.
Conversations:
Absolutely and we have a similar philosophy.
Let's talk technology . . . how have technological innovations influenced research over the last 2 decades with internet, video, mobile, etc.?
Rachel Roscow of Roscow Market Research:
I would need a lot more time than this interview to answer that question!  Technology has completely changed the way we do market research, collect data, interact with respondents, etc. over the past five years, let alone two decades.  When I first started 20 years ago, online surveys were thought to be biased because not everyone was online.  Now, we collect data from respondents on smartphones, have them video themselves and their surroundings, do chat sessions like we are doing now…..
Conversations:
It's transformational.
Its impact is difficult to overstate.
But sometimes, I wonder if some people especially those in rural areas can be left behind and their voices not heard if they don't have a computer or tablet and are reliant on cell phones. In virtually all patient projects, a person must have computer /tablet access.  How are researchers confronting that issue?
More and more people just use cell phones and have abandoned computers all together.
Rachel Roscow of Roscow Market Research:
Yes, we typically require a computer or tablet because they are larger and easier to see an ad or product description or whatever we are showing respondents.  However, I wouldn't have any problems with a respondent using a smartphone to look at materials, as long as they could simultaneously be on the phone talking to me.  And, I'm not sure of the prevalence of computers in rural areas, but my assumption is that it is high.  Have you heard this as a problem from your respondents?
Conversations:
This is definitely an issue in most projects I do where patients don't have computer access. I always encourage them to participate. Borrow a computer from a friend, family, neighbor. Go to the local library, etc.  it's smart that you will take people on smart phones but many clients will not.
Which is why I raised this issue . . .
Rachel Roscow of Roscow Market Research:
I would not exclude a respondent, as long as they could access the materials on some device.
Conversations:
I appreciate that.  That's an intelligent and pragmatic approach.
Rachel Roscow of Roscow Market Research:
Touche!
Conversations:
We deal with very sick people in many projects. Let's take a stage 4 pancreatic patient project where virtually all participants are looking at 3 months, 6 months.  Likely no one will survive beyond a year.  When talking to these participants, Rachel, how do you process that? How do you remove yourself from that reality?
Rachel Roscow of Roscow Market Research:
That is another good question.  Sometimes it can be very difficult.  There have been many times that I have to pause during an interview to hold back tears because the situation the respondent is describing is heartbreaking.  But, like any professional, you gain composure and push through.  I try to be compassionate to respondents like this.  They are typically really strong people; I usually walk away from the interview in awe of them.
Conversations:
Yes, they are very inspiring.  The strength of their spirits is very powerful. Their desire to help others even if it likely will not directly affect them.
Rachel, circling back to the calls themselves as I'm trying to remove the mystery of it.  How involved are clients on the calls? Are they listening it? You have them on message with them say, "Follow through about that." "Ask her about this?"
Rachel Roscow of Roscow Market Research:
Client involvement really varies.  Generally speaking, they will listen to the first few calls and then disappear.  They don't have time to listen to all of them.  Part of our job as researchers is to synthesize and summarize what we heard so they don't have to hear all of it.
Clients who are more involved may text me during calls with more questions, but that isn't the majority of the time.
Conversations:
Yes. Sometimes I sense the anxiety of research clients when their clients are listening in.  Like they freak out if a participant calls in a minute late . . . that creates an unhealthy environment because as we know, inevitably some people will call in a little late . . .
Rachel Roscow of Roscow Market Research:
Hahaha.  Yes, Murphy's Law…. the first interview when the entire client team is logged in and ready to listen, the respondent is late or doesn't show up or can't access the link to view the materials.  It definitely adds stress for researchers when that happens because you want to start a project running smoothly.  But, most clients understand this is the nature of qualitative research….  as you say, some respondents will be late, some will forget their appointment.  But, we appreciate respondents who take their commitment seriously and let us know in advance if their schedule changes or something comes up last minute that makes them unavailable.  All of our time is valuable.
Conversations:
Absolutely.  I wish we could work with you on all our projects, Rachel.
Rachel Roscow of Roscow Market Research:
Awww, thanks.
Conversations:
Rachel, picking up the process.  You've rolled through 20 patients calls. You have them all audiotaped . .  . How do you begin the analysis and summary from there?
Rachel Roscow of Roscow Market Research:
So, I personally do not listen to the recordings.  That would not be a good use of my time, I already listened real-time!  When doing interviews over the phone, I take detailed notes on my computer during the interview.  I guess I'm a fast typer and have gotten used to doing it that way.  Much of the analysis is in my head – after talking to 20 people,  you know the themes of what you've heard.  But, then I always go through my notes to find additional nuggets and details.
Conversations:
And you create a report and deliver it to the client?  Participants always ask me, "What do you do with the research?"  How should I answer that?!
Rachel Roscow of Roscow Market Research:
I create a report in PowerPoint that summarizes what I heard from everyone I spoke with.  It's usually around 20-30 slides.  It doesn't use anyone's names, just an overview of what the majority said, what outliers said, etc.  That's it!
The clients use the information to make decisions about products, marketing, etc.  Market research really has a huge impact on client decisions.
Conversations:
And the sponsor clients does . . . ? They find some action points? Can you give us an example of a report's finding of actionable elements without revealing anything confidential?
Anything salient you can share?
Some participants will say, "Oh, it's just market research."
Rachel Roscow of Roscow Market Research:
An easy actionable type of research is ad testing.  Before spending a lot of money creating a TV commercial and airing it, client ad agencies will typically come up with a few different ideas.  We will show respondents a few different ideas for ads and get their feedback.  Based on this research, the client will choose the best ad to produce and fine tune it based on the feedback we receive.  Extremely actionable.
Conversations:
Indeed but some participants might say, "I don't want to help pharma with ads or marketing or product promotion"  And that pharma is the big bad wolf . . .  .How would respond to that working with them for many years?
Rachel Roscow of Roscow Market Research:
As far as healthcare goes, it could be figuring out the best way to communicate the efficacy and side effects of a treatment to patients.  To make sure it is clear and appealing.  We get feedback from respondents and that gets translated to a patient brochure or other materials.
Conversations:
Yes.
Rachel, thanks so much for talking to CONVERSATIONS today.  Do you want to share you site with people who might be interesting in connecting with you?
Rachel Roscow of Roscow Market Research:
Sure!  www.roscowmarketresearch.com