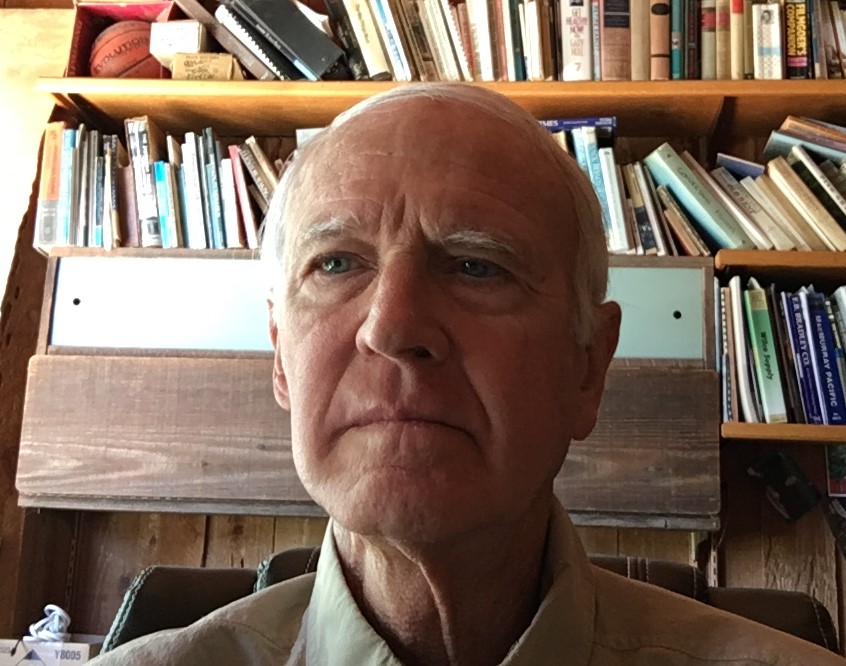 Conversations:
Eric, thanks for talking to Conversations today. Let me ask you: What is amyloidosis? What are the different types of it? And which one do you have?
Eric Eckerstrom:
Amyloid is a starchy sticky substance made by misfolded proteins of various types . The types are called out by a "A" preceding the protein involved, ie ATTR involves the TTR or transthyretin protein. That is the type I have.
Conversations:
You have ATTR. Take us back to the beginning, Eric. What were your symptoms before you were diagnosed with ATTR?
Eric Eckerstrom:
I experience increasing shortness of breath cause by amyloid building up in my heart, making it stiff and unable to fill and pump properly.
Where once I could mountain bike up along hill no problem, I started having to stop in the middle, then twice and finally every 100 feet. I also experienced carpel tunnel syndrome and had to have surgery to relive that. My subtype of ATTR is "wild type" meaning that the TTR protein, produced by my liver, is of the normal, or wild type.
There also is the hereditary type of ATTR. Those patients have more involvement of other organs and and may suffer greatly from neurological symptoms such as poriforal neuropathy, and GI problems, among others. In their case a genetic varient causes their liver to make a form of TTR that is inherently unstable.
Conversations:
What type of the doctor diagnosed you? And what type of tests? And he turns to you and says, what? Had you ever heard of amyloidosis? What was your reaction?
Eric Eckerstrom:
Amyloidosis has been called "the great imposter" because many doctors mistake its symptoms for other diseases. That did happen with me though I was more fortunate than most. I went into arrhythmia and went to my local E.R.
There, an echocardiogram was performed and the technician, who had recently seen an amyloid patient, recognized the characteristic speckled pattern of amyloid. After fooling around a bit locally I went to Mayo in Minnesota where I was able to get a more specific diagnosis.
Early diagnosis is critical in the treatment any amyloid type since it is a progressive disease with no cure. Any damage done cannot at this point be reversed. I had a long period with symptoms before that episode. I was told that the enlarged heart visible on previous echos was just an "athletes heart" and previous EKG abnormalities were not significant. It is also very important to be seen at an amyloid center as soon as possible.
This is complicated disease involving multiple body systems. Proper treatment needs to involve a team of doctors with multiple specialties.
Conversations:
WT-ATTR strikes older people in their 60 and 70s? And skews male? What is the genetic reason if any for that?
Eric Eckerstrom:
Ok. Then to expand on the above. When I saw a doctor after the echo and he told me that he thought it might be amyloid, I had never heard of amyloidosis. Of course I went home, got on line, and was majorly alarmed. I called a close doctor friend, saw a colleague of his, had a blood test to check to see if I had the light chain type light, but basically was getting nowhere fast. That" when I self referred to Mayo.
It can be seen in many patients as early as their 50s. Part of the issue is that it is frequently present long before diagnosis. My first carpal tunnel release was in 2001, my diagnosis was in 2014. So far no known reason for skewing male, in fact no known reason why it strikes. Since it is correlated with aging some speculation involves telomeres, some the action of chemical chaperones. Genetics does not appear to play a role in wild type
Conversations:
Thanks for all this detail, Eric. Let's talk treatment. What treatment were you offered and how have you done on it over the years?
Eric Eckerstrom:
While I was at Mayo, I was still not sure whether I was why or hATTR. I was able to attend a support group meet at that time and that was the beginning of a very important aspect of my journey. Once I came home I realized that even though Mayo was really great. I needed to be seen at a closer Amy clinic.
That was Stanford. I again self referred and was seen there by Doctor Witteles. I was given the opportunity to enroll in the clinical trial for Pfizer's drug Tafamadis. There was at that time no specific treatment for the disease, just treatment to manage symptoms. Over a period of time that involved anti-arrhythmic drugs, cardioversions, and an ablation, then a pacemaker, to manage the arrhythmia, diuretics, and a blood thinner.
By enrolling in the trial, I was able to be monitored very closely. Over the next two years, as condition worsened, I became less and less able to even do a simple task like taking a shower standing up. I was exhausted just from walking the length of my house. I went to the clinic for a regular visit and when an EKG showed ventricular tachycardia Dr. Witteles checked me into the hospital and started a work up for a heart transplant. Less than a week later a had a new heart. I had both feet in the grave and the Stanford team reached down and pulled me out. So I am doubly rare: an ATTR patient and a heart transplant recipient. I know that that would be the only thing that would save me, but I did not expect it. I am now two years post transplant and am feeling good, still with some issues I believe, from from Amyloidosis and some related to being a transplant patient, but very grateful.
As it turned out I was in the control arm of the Tafamadis trial. I did not receive the drug. I am happy that I participated regardless. The drug is now approved and I am receiving it with help from the Pfizer patient assistance program. Thank you, Pfizer! And thank you to my donor, Mayo and Stanford, to all of the doctors, nurses, and staff who helped me along the way!
Conversations:
That is a wonderful story, Eric. I didn't realize you had gotten a heart transplant. You were moved to the top of the transplant list? And received one 2 days later? You must have been quite sick to make that jump. Do you have any ideas whose heart you got? Or they don't tell you? How does that work?
Eric Eckerstrom:
You are not told. I have been writing a serial letter to my donor's family. One more installment and I'm ready to send. It has taken me too long but the story keeps evolving. I do not know exactly how a determination is made about who receives a heart. I was very sick, and in the hospital, and am a common blood type, not obese or a smoker, or otherwise having co-morbidities. I was fortunate in having strong advocates in my Stanford team. I have some mixed feelings regarding how fortunate that I am. Happy to be here, but concerned about being worthy.
Conversations:
You are worthy, Eric and I know you are very active in giving back. I'm sure your host family will be thrilled to hear from you. I encourage you to finally send your letter. It will mean a lot to them.
I know you are very active in support groups in the Bay area. Can you tell Conversations what you're doing up there? Do you have any contact info for those in area who might want to participate?
Eric Eckerstrom:
Thanks, Doug. One thing that I do not want to fail to discuss is how important to me it has been to participate in the patient support groups that I have been involved with. On many levels. When first diagnosed it can be overwhelming and the is a lot of information out there that can be quite alarming, and confusing. Patient support groups filter the information and give a patient the interact with other patients, advocates and health professionals.
The Amyloidosis Support Groups, Amyloidosis Foundation, and the Amyloid Research Consortium have all been of immense value to me and contributed greatly to where I am today. I cannot encourage too much any patient, especially any with a rare disease, to take advantage of the opportunity to interact with patient support groups.
Conversations:
Thank. That's an important endorsement, Eric. I want to leave with that point. Can you share the links of those organizations so others can easily find them?
For ASG, AF and ARC . . .
Eric Eckerstrom:
https://www.amyloidosissupport.org/
Then, once you go to the site, really mine it. Sometimes it takes a while to discover what you want. Then, if you can, attend. You will not regret it.